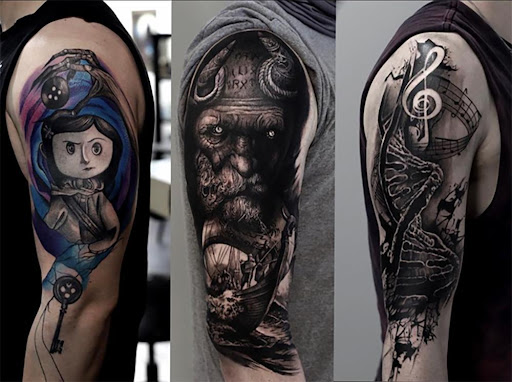 Internationally acclaimed
tattoo artist Polina Cohen
has gained worldwide attention for her stunning tattoo designs. Clients wait months for a chance in her chair—and with the incredible in her designs, it's easy to see why. Get to know Polina and what drives her to create such amazing art.
From early childhood, Polina was drawn to the arts. By four years old, she was already putting her imagination to work and creating art. Growing up, fine art was her passion, and she knew from a young age that she would never be satisfied in a career that didn't combine her enthusiasm and natural talent.
Diving into the art world
After high school, Polina attended university to immerse herself in the art world. At 17, Polina began crafting her art on a new canvas: people. For her, tattooing was a natural extension of her natural talent.
"I was a fine artist at the time," Polina said. "All of my friends kept telling me to try tattooing. So, I gave it a shot. The first time I tried it, I fell in love with the craft."
Creating art that lasts a lifetime

Polina said there's nothing more fulfilling than to see her work become a part of people. However, her early tattooing journey wasn't without obstacles. She struggled early on without enough money to purchase the necessary tools to make tattooing a full-time career.

After her friends saw her passion and talent for tattooing, they surprised her with her first machine, and Polina knew she'd found what she was meant to do in life. However, she also knew that her best chance to turn her skill into a successful, long-term career was to leave her homeland and move to the United States.
A dream of ink and art

Polina flew to the other side of the world to chase her dream, landing in the Big Apple to become a full-time tattoo artist. She spent the next few years in New York honing her craft in traveling workshops. Polina worked on multiple styles, including watercolor, geometric, and abstract, but she found her interest repeatedly drawn to dark realism. So, she went all in.

By age 23, Polina began winning awards at tattoo conventions and shows around the country, including multiple "Best in Show" awards. Everything started taking off for her, and a year later, she'd been published in Ink Magazine, Ink Society, Skin Art, DGN Magazine, California Reader, and Miami Celebrities.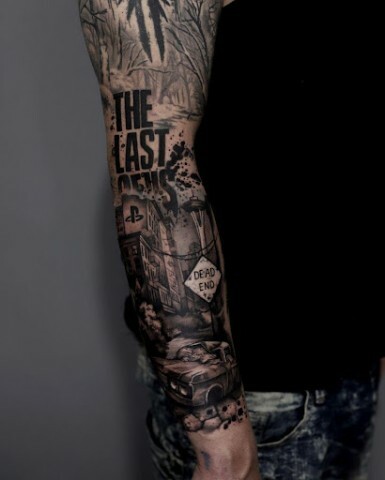 Dark realism and intricate detail

Now 25, Polina has won tattoo expos around the U.S. and internationally. Her work draws clients from around the world to her current home base in San Francisco. Polina's clients are booked months in advance, and she's thrilled to see her business grow. However, it wasn't always so easy. When she started, Polina worked 70 to 90 hours weekly to hone her skills. Now, she can spend plenty of time drawing her one-of-a-kind art pieces between inking clients.

"In my work, I'm very precise in the details. The most important thing to me is that I make sure my art is unique, follows the body flow, and represents all of my client's ideas," Polina said. "It's rewarding knowing my work stands the test of time. I want to look at art I did five or ten years ago and see that it looks the same as when it was first created."

Unique, living art

While some of the world's fine art hangs in museums and galleries, Polina creates living art that can be found walking the streets. Each tattoo she does is beautifully unique and will never be duplicated.

"I'm very happy I found my passion. I'm excited about the next year, to gain even more experience, meet new international clients, work on interesting projects, and open my own tattoo shop," Polina said.
Publications
BENZINGA: https://www.benzinga.com/pressreleases/23/02/ab30979511/clients-book-months-in-advance-for-intricate-artwork-from-international-award-winning-tattoo-arti
Digital Journal: https://digitaljournal.com/pr/news/clients-book-months-in-advance-for-intricate-artwork-from-international-award-winning-tattoo-artist-polina-cohen
Azcentral: http://finance.azcentral.com/azcentral/article/getnews-2023-2-20-clients-book-months-in-advance-for-intricate-artwork-from-international-award-winning-tattoo-artist-polina-cohen/
FOX40: https://www.wicz.com/story/48413768/clients-book-months-in-advance-for-intricate-artwork-from-international-awardwinning-tattoo-artist-polina-cohen
NCN: https://www.newschannelnebraska.com/story/48413768/clients-book-months-in-advance-for-intricate-artwork-from-international-awardwinning-tattoo-artist-polina-cohen
SNN News: https://www.snntv.com/story/48413768/clients-book-months-in-advance-for-intricate-artwork-from-international-awardwinning-tattoo-artist-polina-cohen
The Chronicle Journal: http://markets.chroniclejournal.com/chroniclejournal/article/getnews-2023-2-20-clients-book-months-in-advance-for-intricate-artwork-from-international-award-winning-tattoo-artist-polina-cohen/
Minyanville: http://finance.minyanville.com/minyanville/article/getnews-2023-2-20-clients-book-months-in-advance-for-intricate-artwork-from-international-award-winning-tattoo-artist-polina-cohen